As my bank account dwindles and the stress of the inefficient day to day life of Italians starts to wear on me, I'm trying to hold on to what is amazing about this country.  In the course of the past five weeks, I've been to 5 of Italy's regions, seen Venice & Rome, Michelangelo, Leonardo & Donatello, sunsets over Lago di Garda, and starry nights over Firenze.  My "parents" have made feasts of pesto, Tuscan beef stews, lentil soup, Easter lamb, and other such forms of heaven.  Speaking Italian, I've gone from a mute to a semi-capable speaker: I can walk into bars to order my morning cappucino (delicious and only 1 euro!) and have a casual conversation with the barista or tell my parents a story or two from my day.  I still nod a lot and laugh when I'm not quite sure what is funny, but progress is progress.  The "Italy" half of the program has been almost antithetical to London.  Visibly less updates (this is only my second) reflect my internet situation. I have no internet at my Italian home, and its very hard to find a place to get online after a dinner finishing past 9 pm.  Our courses require a lot more book work and leg work (both are on-site) and we have a third course here in Florence, Italian.  Everything is going by so quickly, and I'm trying to make the most of it, regardless of the pace and stress.
Speaking of "slowing down", this past weekend, I found a little place for some friends and I at "Lago di Garda".  We booked a 3 bedroom house for seven of us in the middle of a golf course, a couple km outside of "Peschiera del Garda", a lake town in Northern Italy.  It reminded me so much of Coeur d'Alene, and those of you who know me well are aware of how much I love this lake: filled with motor boats and sailboats, people tanning, playing in the water, going on dinner cruises.  I adore lake culture and always wished I had a lake place of my own.  The golf course catered to Swedes, Germans, Brits, typically of the pensioner variety, so we were sort of stand-outs with the evening shuttle crowd: young, tan, and lacking in any plaid golfing pants.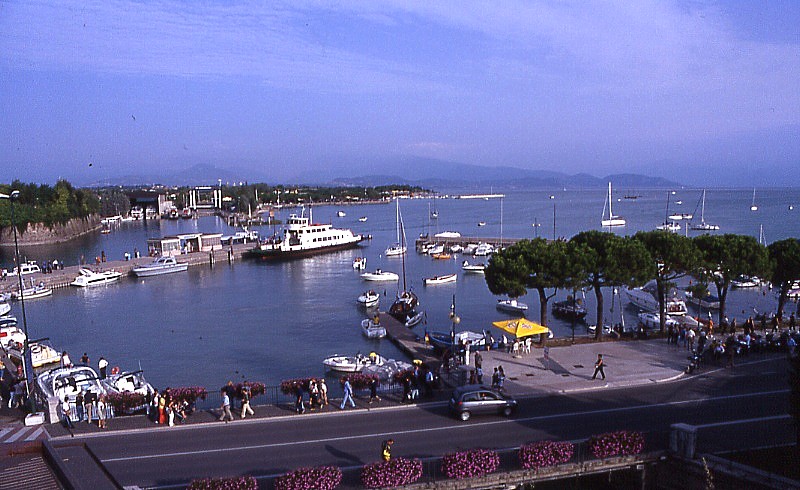 maybe I'm just homesick, but doesn't this look like Coeur d'alene?!
We ended up in Northern Italy after a jaunt to Venice.  I can't say enough about Venezia - the rumors are true. Its incredibly romantic, and the lonely single girl side of my "independent nature" came out to growl a bit.  Everyone was a couple, holding hands, kissing on gondolas and the bridges crossing the water filled "streets" of this mythical city.  You get the sense, walking around, that someone painted it because there is no way it actually exists, stranded alone in the middle of this giant lagoon, in shades of bright yellow, orange and pink against the glimmering water. 
My incredible art history professor, Jodie Mariotti, managed to get us a private reservation for the Basilica San Marco the Thursday evening of our stay.  At 7:30 pm, we entered into the basilica, barely lit by the setting sun and sat down in the front of the Nave.  She had the custodian slowly light the room, and soon the 8000 square meters of gold mosaics covering the ceiling and the interior of the 5 domes lit up around us.  Its hard to articulate, but this photo is my best attempt
We saw the relics of St. Mark the Evangelist, and the "Pala d'oro" on the sacred altar space most visitors never enter.  The Pala d'Oro or "golden cloth" is the high altar of San Marco, and it is a Byzantine Gothic piece of ark coated with 1,927 gems. (more details in the link).
The weekend before Venezia, I went to Cortona, the city where "Under the Tuscan Sun" took place, and a quaint little town that epitomizes Tuscany.  It rises 800 feet above the countryside and lake below it, and is filled with enotecas and little craftsman shops.  We went to a wine tasting, bought a bottle, and marched up to the highest point of town to enjoy a picnic and bask in the Tuscan sunlight.  The following day, Mariana and I went on a pilgrimage to Bologna and its famous "Nutelleria".  The "Nutelleria" was a bit of a flop, considering that it was a hole in the wall that didn't even have bananas for their crepes, but the rest of Bologna was wonderful.  All of the sidewalks are covered Loggias, and it allowed us to see the entire city center despite a deluge of rain.  After a few churches, an obligatory lunchtime meal of fettucine a la Bolognese, and a visit to one of the world's oldest University, we called it a day and checked off another Italian city.
If I were to promote one piece of Italian infrastructure, it'd be the simplicity of their rail service.  For all the inefficiencies of everything else here, I've managed to get everywhere I've tried to go on time, and with minimal problems.  Then again, I've never tried to go anywhere on national holidays or transportation strike days.
Over the next few weeks, my travel is on hold while I hug my money tight before Jess & I venture off to Corsica (and I begin to pay rent on my C Springs house).  I hope to get my work done, make some more Italian friends, and get cozy with anatomical studies and sketches in the Uffizi gallery preparing for my final paper.
and in honor of my need to be patient, accept that traveling is a bitch, and that it is the "Italian way", i give you a wonderful proverb:
"Never run after a bus or a man, there will always be another one"
My love to all, and I will see you soon
Washington DC - June 3rd, Denver CO & COLORADO SPRINGS - June 4th, PNW - August 13th.